All is still well with little baby this week. Heartbeat was 145 and strong, the doc found it right away. My screen for gestational diabetes came back showing my blood sugar as high so I was sent Friday to the hospital lab for further testing, the three hour screen they call it. It actually took four hours, with no eating for six hours before the test. I get there and they draw my blood, run it to make sure my blood sugar isn't already high, then I get to drink this nasty sugar drink and then have my blood drawn every hour for the next three hour to see how my body metabolizes sugar. I was starving and shakey by the time it was finally over at noon. I don't know the results yet, but I really hope they come back normal b/c I can't imagine not being able to eat ice cream for the rest of this pregnancy, which I hear is one big no-no for those who really have gestational diabetes.
Our 3d/4d ultrasound scan was supposed to be done on Thursday but the machine was broken, so it's rescheduled for Monday. Check back for the pictures, I will post them as soon as I get them, I'm so excited to see our little boy's face for the first time! Big sister will be attending the scan too. Speaking of big sister Alexa has been doing exceptionally well lately at her horse shows. Last weekend over two days she won 7 First Place ribbons, 1 Third Place, 1 Fourth Place, and 1 Trophy for having the day's highest point total. All of her hard work with training the most obstinate horse in the world has really paid off, I'm very proud of her.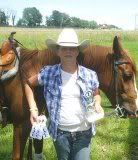 The night before last our evening entertainment was hooking up Mike's ipod to the baby sounds device that I bought that lets us listen to baby's heartbeat and play music for the baby as well. Mike got the biggest kick out of actually seeing my stomach jump around as Garrett rolled and kicked. It was so fun to see his reaction, just "wow" in total awe. I have to admit it does look a little strange to look down and see your belly moving around on it's own. Now every night we play "watch the baby" before we go to bed as this seems to be his most active time. Guess he's going to be a night owl like the rest of the family!
Oh, and 76 more days til baby due (but who's counting right?)